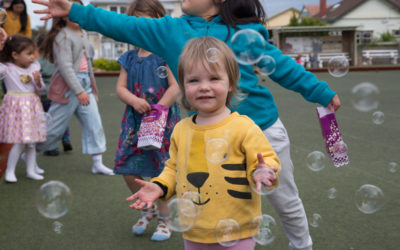 Super cute.Anne Sgro Children's Centre hosted its first Family Fun Day Fundraiser on Sunday 27 October 2019. The aim of the day was to get the families of the Centre together to enjoy an afternoon of fun, whilst raising some funds for the Centre's Sustainability...
read more
Engaging Curriculum
Creating an engaging curriculum based on children's interests.
Learning Environment / Value of Play
Children are encouraged to experiment, explore and investigate through play at their own pace
Sense of belonging
within our community, forming secure respectful and reciprocal relationships with peers and educators.
Inclusion, Equality and Diversity
We believe in creating a respectful, inclusive learning environment. 
Nursery Room
Children aged 3 months to 2 years
Toddler Room
Children aged 2 years to 3 years.
Pre Kinder Room
Children aged 3 to 4 years.
Kinder Room
Children aged 4 to 5 years.
What Our Families are Saying
Anne Sgro is such a wonderful day care centre.  After 6 years and 2 children at the centre, we couldn't be happier.  Community run, amazing staff and a passionate level of care for the children.   Thanks again, Melissa Mills.   
What can I say?  A great centre.  Over the past seven years the staff have shown such care and commitment to the well-being of my children.  Freida loves Kylie's discos and Eliza, three years later, remembers the songs and games she learned here.  Thank you to everyone involved in this centre, not only for looking after my children so well but also for fostering a wonderful sense of community for us all to be part of.  Gemma Walsh
My second daughter Hazel has had her first year at Anne Sgro and yet again I am so happy with the level of care and rich environment provided by the centre and educators.  My first daughter Matilda absolutely loved Anne Sgro and totally thrived there.  Hazel is having the same experience.  As a parent I am so thankful for this wonderful, community run centre.  I couldn't be happier!  Eve West
Both our children went through Ann Sgro and we were delighted with the support and care offered to them. The community of parents plays a large role in the running of the centre so everything is focused around meeting the needs of the children. The staff provided the children with so many wonderful opportunities that they loved going each day. My happy and confident children transitioned easily into Primary school after such a positive experience at Anne Sgro.  Julie McClimont